How To Collaborate With Producers - Ultimate Guide
HERE IS EVERYTHING YOU NEED TO KNOW ABOUT SENDING OUT LOOPS, FROM PRODUCING, TO FINDING PRODUCERS TO COLLAB WITH, TO FILE ORGANIZATION.
Collaboration has been one of the best ways to grow as a music producer for a long time. Not only does it bring multiple creative minds to one beat, but it also expands your connections and can lead to opportunities. Every producer can bring something new to the table for collaboration and open doors for different opportunities. If you are looking to grow as a music producer in 2023, you will need to collaborate with other producers, and there are many steps that can be difficult to learn when it comes to collaboration. In this guide, we're going to cover all the steps needed including creating samples, finding producers to collab with, how to send files, and way more.
Making loops and samples for collaborations has many components and layers, this guide is going to cover the basics.
Catchy Melodies
The melody is generally the driving factor in a song. This means that your job as the loop maker is to create a catchy melody that is unique and recognizable for the song you are working on. A great melody does not have to be a complex melody. Usually, simple melodies work the best, especially when you are working on samples for collaborations. Keep in mind that when you send these loops out to other producers, they usually have emails flooded with hundreds of samples, so they are only listening to a couple of seconds of each one. If you do not catch their attention with the first note of your sample, it will get skipped and you will lose the opportunity to get that collab.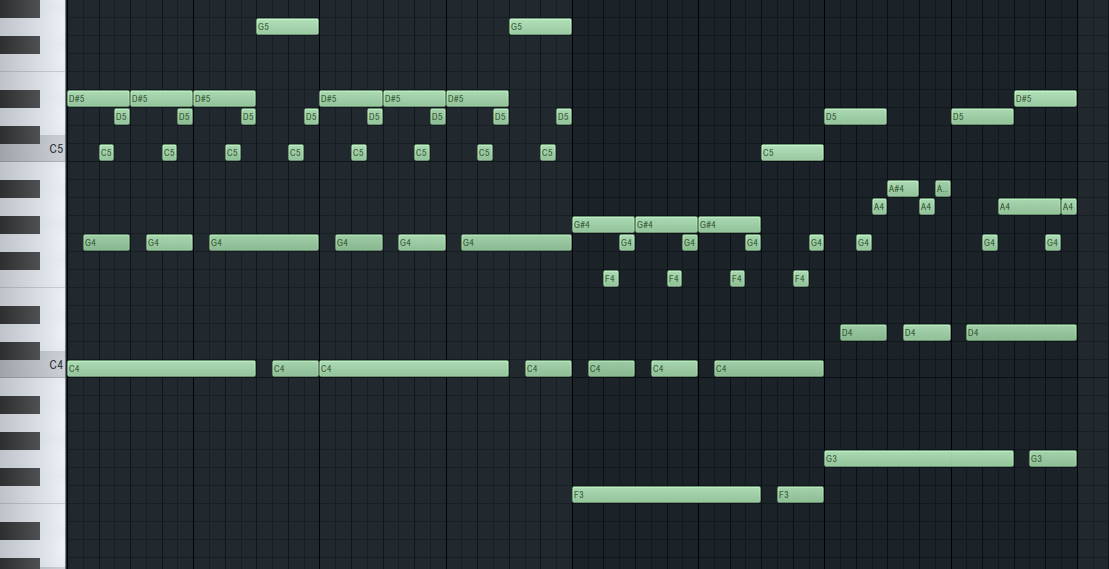 Layers
Something that loop makers often forget is that there will be a whole other producer who will be working on the beat. This means they will overproduce their sample to the point where there's no room to add drums. To avoid this, I like to limit my samples to four layers. This can be flexible and you can use your best judgment when it comes to layering, but four is usually a good number to remember when layering up your samples.

Make sure your layers blend well together. Use your ears and listen for each sound individually. If any layer is cutting too loudly through the mix, simply turn it down. Mixing your layers doesn't have to be complicated, you can start by soloing one layer and adding the rest one at a time so you can hear the volumes of each individually and how they mix with each other.
EXPORTING SAMPLES
The way you export your samples can affect the chances of you landing a collaboration. There are a lot of variables and options to choose from when you are exporting. Here are the industry standard recommendations for your loops.
Stems
Every sample you export should include the individual instrument stems at the end of the file. This lets your coproducer have more creative liberty over the arrangement of the beat. Even if you arrange your loop, still put the stems at the end of the sample. If the coproducer wants to use your arrangement instead of the stems, they will simply delete the stems from the beat. If they do not agree with how you arranged your sample and do not have any stems to work with, they will most likely scrap the project and move on to a different sample.
Remember that your job as a loop maker is to provide as much value as you can in your collaborations. Even if you think that your sample arrangements are the best in the world and no one can arrange better than you, STILL add your stems to the sample! Put your pride to the side and provide more value for your coproducer.
Separate your stems by two bars each. This gives each instrument the chance to fade out before the next one plays. You don't want your reverb tails to bleed into each instrument because the stems will not sound right when you cut them out to arrange the beat.
Export File Type
When exporting your samples to send out to producers, you want to always use the .mp3 format. Mp3 format audio takes up the least amount of hard drive space and is best for sending files. You may be thinking that it's better to export in .wav files, but there are many cons to this. The audio quality between an mp3 and a wav file is very minuscule. While there is much more information in the wav file, a human ear cannot tell the difference between the two file types. They sound almost identical and mp3 files take up about 10% of the storage that wav files do.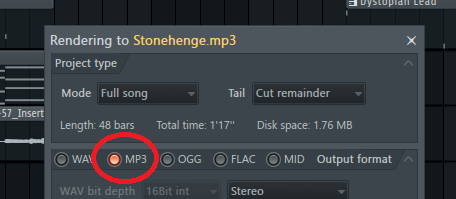 If you are working with a major label or you are sending samples for a specific project, .wav files may be expected. If you are not sure, ask the coproducer which file type works best for the specific project.
Naming your files
Remembering that we are trying to make the coproducer's job as easy as possible, we can put as much information as possible in the file name to help speed up the process of the collaboration. When a producer does not have the necessary information for a collaboration, they may skip your loop and move on. Here are the important pieces of info to add to your title.
1) Start with your name. It is smart to use your Instagram account handle. You want to make sure you can be easily reached if your sample is used in a placement. If you leave out your name from your file name, a producer will easily forget where it came from and you will not get the credit you deserve on a track. Producers get hundreds of messages and emails with thousands of samples. They will not go through them to track down who you are, add your name!
@wavgrind -
Next, add a unique title to your sample. Use something that conveys the emotion of the sample. You don't want to mislead your coproducer by using a name that has a completely different vibe than the actual sample. For example, creating a hard 21 Savage slaughter gang sample and naming it "Butterflies and Rainbows" can mislead a producer. This could also be a creative choice if you want to be bold with your names.
@wavgrind - Stonehenge
After your title, add the tempo of your sample. The BPM of a loop is the most important aspect to turn the sample into a full beat. Make sure you add the right BPM! I've had producers send me samples with the wrong BPM in the title and I've never collabed with those producers again.
@wavgrind - Stonehenge 150bpm
After your BPM, the next piece of important information is the key of your sample. Providing the key of a sample will speed up the process of producing a full beat and will allow the coproducer to add melodic layers easily.
@wavgrind - Stonehenge 150bpm (c minor)
OPTIONAL: After your key, you can add the genre or vibe of your sample. This helps the coproducer when they are searching for specific types of loops and many producers will appreciate you for going above and beyond in your file title. Make sure the keyword you choose properly categorizes your sample.
@wavgrind - Stonehenge 150bpm (c minor) Dark Piano

finding producers to collab with
There are hundreds of thousands of producers out there ready for you to reach out and collaborate with. You may have fire samples and the perfect networking strategy, but your problem may be that you don't know where to find producers. It can be easy to find any random producers on the internet, but here are some ways to find producers that may have better industry opportunities for collabs.
Genius.com
Genius is a classic music database website where you can find lyrics, lyric analysis, interviews, breakdowns, and credits. Every song on genius has the producers listed at the top of the song page. This makes it a great resource for researching producers who work with your favorite artists. It may take some time to find the perfect producer for you, but almost every album released by a major artist has a few producers who are just getting their foot in the door of the industry and have a much higher chance of responding and collaborating from just a simple DM.
Going through all your favorite albums that have dropped recently and seeing all the producers who have worked on them is a great way to find upcoming, talented producers to work with who have bright futures ahead.

Spotify
While not every credit may be listed on Spotify, it can be a great resource to find out who produced your favorite tracks. It's best to check multiple sources for production credits because some sites may be missing some coproducers. To find the producer credits on Spotify, you will need to find the song you're choosing and click on the three dots to the right side of the screen. This works on computers and phones. When the pop-up tab comes up, scroll down and select "Song credits." This will bring up the credits of the song and you will find the producers under the "Produced by" tab!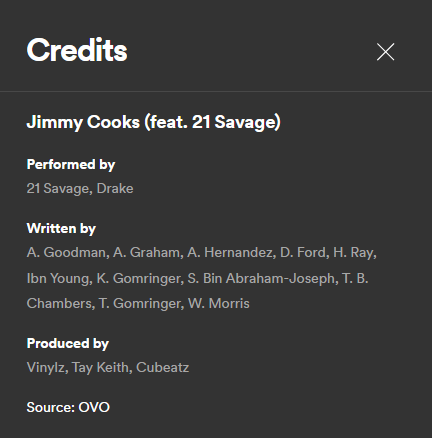 YouTube
Collaborating with industry producers who have major placements can be a great way to enter the music industry, you will have a much higher chance when attempting to collab with smaller internet producers who sell beats online. YouTube is one of the best places to go to find internet producers who have similar production styles to you.
As you probably know, producers distinguish the style of beat they are posting by using "Type Beat." If you produce samples in the style of Drake, searching "Drake Type Beat" will show you hundreds of producers who are also making beats in the same style as you. This is a great way to find producers you are compatible with when it comes to collaborating.
When you press enter on your search, you are going to see the top results for your entry. If you're searching for Drake Type Beat, the top results are going to have thousands, maybe even millions of views. These producers may be further out of reach. To see smaller producers that will respond better to collab messages, search by upload date in the YouTube search settings. This will show you the most recent Drake Type Beats uploaded to the platform and you can find hundreds of producers with 0-1000 subscribers.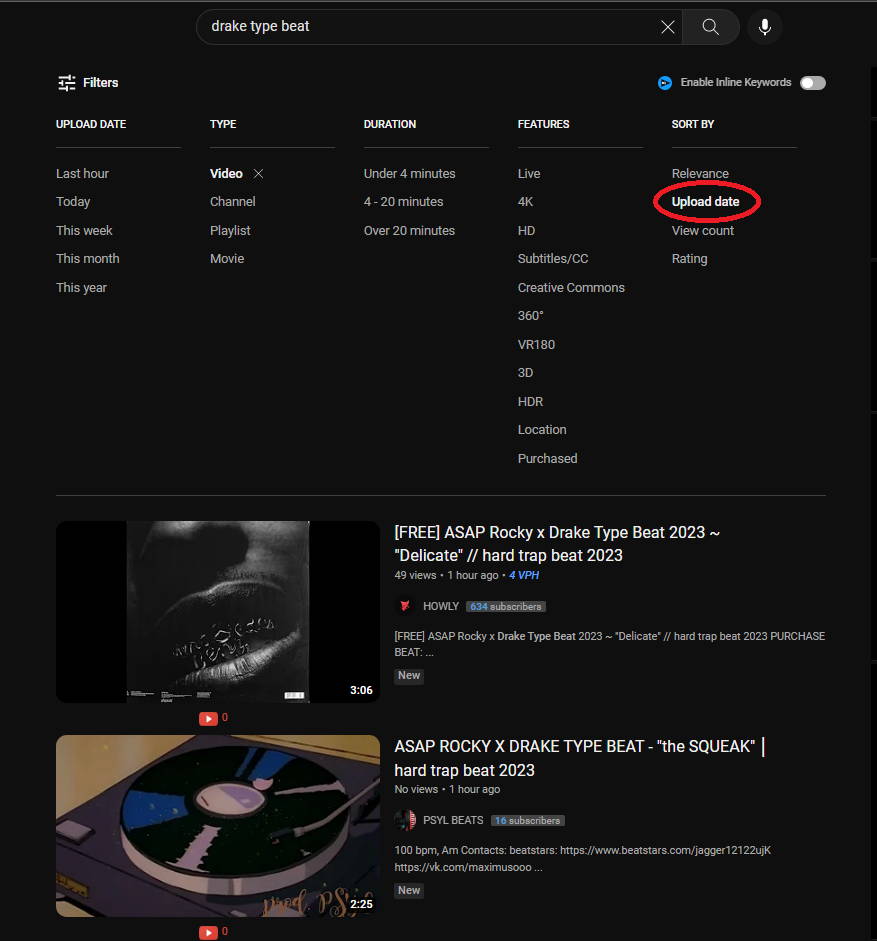 A great part about using YouTube to find producers is that many producers will have their email directly linked to their YouTube channel. It is still good to reach out with an Instagram DM, which I will explain in the next section, but the more ways to communicate, the better.
Find an email address in the about section of a YouTube channel. You may need to do a captcha test to unlock the email.

reaching out to producers
Now that you learned how to find producers, you need to know how and what to say. There is no singular message that is going to work more than another, but there are general rules to follow when you are trying to network with producers, even if you may be in a better position than them in terms of followers or opprotunities. Remember that you are talking to real people, not robots.
Instagram DMs
This is by far the best way to reach out to a producer you have never talked to before. After you find a producer's Instagram account, follow them, like a couple of their recent posts, then go for the message. When you're messaging a producer, you want to make it genuine and personalized. You also don't want to write your whole life story as an essay in their DMs. Keep your message short and sweet and follow these steps.
1. Say their name
This lets the producer know that you are sending a personalized message created just for them, and you are not copying and pasting the same message to different producers.
2. Mention something they've worked on
This can be a song they produced, a beat on their Instagram or YouTube channel, or a post they have on their account. Just make sure that they know that you are being a real person and genuinely taking an interest in their work.
3. Get to the point.
Producers don't want to read a novel in a networking message. Get to the point of your message. If you want to collab, say you want to collab. Let the person know that you are interested in building a creative relationship and you're ready to work.
With it all together, it should look something like this: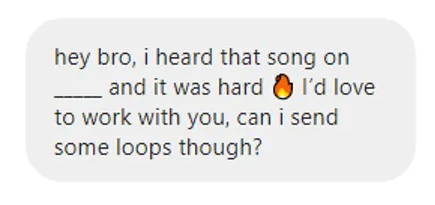 (You can replace "bro" with their name)
sending samples
So, you've made it. You created your loops, exported them, found a producer to work with, and reached out and talked. Once you finally get that email, it's time to send your pack. Here are the dos and don'ts of sending out samples.
Dropbox
The industry standard when sending sample packs is using Dropbox. You can make a free account and get 2 GB of storage, but if you are serious about being a producer and you can afford it, I strongly recommend upgrading your account. 2 GB is not nearly enough to be sending loops consistently and even with the cheapest plan, the extra storage will be more than enough for consistent sending.
Composing Your Email
Once you upload your pack to Dropbox and get your sharable link, you can begin to compose your email. For your subject, make it something like this:
🔥Drake Loops For (name) - (your @)
If you already talked with the producer and they are expecting loops from you, putting your instagram handle in the subject will remind them of your conversation and they will be more likely to open the email.
Putting the style of the loops in the subject can spark their inspiration or just make it easier to find the loops they are looking for.
The fire emoji simply catches their attention in the inbox.
The actual email should be very simple. It can even just be the link and nothing else. Do not send your life story with this loop link, the producer will not care.
Signature
To end your email, add a signature in Gmail that will protect your intelectual property. This will make you seem more professional in your collaborations. You can copy and paste something like this:
Please acknowledge that all materials downloaded through this e-mail are copy-written and owned by *Your Name*. All rights are reserved. By downloading this material you agree to not use in any way and/or disclose this material to any third parties without the written consent of *Your Name*, and if a beat is used please give credit on the track such as putting [Prod. by *Your Name*] in the title.
Conclusion
Collaborating with producers is one of the best ways to get your foot in the door of the music industry. The most important thing while working for collaborations is to stay consistent and build genuine relationships with producers. Work hard to build your production skills and take your samples to the next level.
In summary, here's how to collaborate with producers:
Create catchy, simple samples and include stems

Export to mp3 and put helpful information in the file title

Find producers on Genius or YouTube

Reach out with a genuine message

Send a professional email with your Dropbox link
Good luck!
Written By Jake Tompkins
@jaketompkinsvevo